M.Tech or MBA,  a typical and also very tough decision every student has to make after completing his/her Bachelors whether to go for  M.tech or MBA. Both vary a long way as both are two Different Roads where students can no doubt walk as per there interest after completing there B.Tech is whatever stream. M.Tech will surely take students towards Engineering line more deeply whereas MBA will provide Engineering students with a new exposure towards Career in Business and Management. Choose wisely whether to go for Mtech or MBA. More details below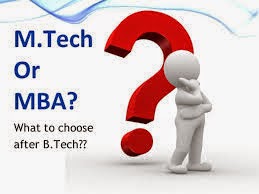 More elaborately Student in MBA will have two open Career Fields whether they can go for Business n Management or they can opt a job in Engineering Field but things which we can take in consideration is that now students are preferring MBA over M.Tech due to some basic benefits around.
M.Tech Or MBA:-
Many students who have just done with their undergraduate program in Engineering(B.Tech) and planning to pursue there study further with post graduation programs. They have two main options which are whether they can go forward with same Engineering Field which is M.Tech also they can go for Business Administration programs MBA( Masters in Business Academics) which can open a field of business and management for them.
Thoughts behind why students going more into MBA's after graduation is simply the factor of Non-Technical source including that MBA secures future in Industries and No-technical workouts which students can Opt out also,
We should have a bright phase of M.Tech Pg course i..e., as M.Tech deals with Technical field that will take you to deep into engineering studies and its components.
Main Field which M.Tech or MBA covers:-
MBA covers those Fields:-
Banking
Management
Finance
Consultancy
All Other Non-technical former workouts are considered under MBA programs and Jobs.
M.Tech Cover Those Fields:-
Research
Engineering equipment
Academics
Developments
All Other Technical workouts which include Engineering works.
Comparison in M.Tech and MBA:-
MBA no doubts has a large number of Jobs and major areas for building a fabulous career which can promise them a secured and blushing Future.  The Employment Level and Salary packages in MBA is definitely having an upper hand over M.Tech graduates as MBA Students will start with a trademark salary of around 80 K to 1 lack bucks per month which is a huge amount in Indian currency whereas in US $ they will be earning around 1000$ per Week.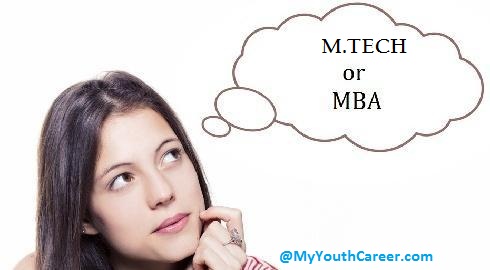 Whereas , when we came to M.Tech we too have a good salary Slips per compared to MBA pg course graduate this amount lacks a bit as average starting salary for an M.Tech postgraduate students is around 50 K to 70 K at the end of 30 days circle in Indian Currency and around 500$ per week in USD $$s. 
MBA is very much popular course with students IIM's (Indian Institute of Management) conducts an entrance exam for admission in Indian Top level Institutes which we named as CAT(Common Entrance Test).
Due to the popularity of MBA programs, Talent of students is not going in countries favour as this may hurt Indian research programs and development.
In a few previous years, M.Tech is also finding its way within the student's Interest as Technical employees demands have risen to new mark all around the world especially in the United States and India. Increase in M.Tech postgraduate students demands in Industry will encourage Development in New "TECHNOLOGY" and "RESEARCH".
At last, we would conclude that Students should use this above information for their Post graduation studies programs but everyone should prefer there "Taste of Interest".  Try to follow that path in which you enjoy being urself. If a student loves working in industry and management we must recommend for MBA's but Students who feel their heart towards technicality and feels more comfortable in doing back-end workouts should opt for M. Tech.  M.Tech or MBA choice is all yours after B.Tech.