Get ISC/ICSE Board Sample papers 2021 for free to appear in the ISC Board examination for the 12th class. Now you can easily download and save these Sample papers and guess papers for better preparation for your exams. ICSE is actually Indian Certified of Secondary Education & ISC is an Indian School certificate that provides convent education to students in India. ISC exams 2021 Date Sheet will be also disclosed Soon.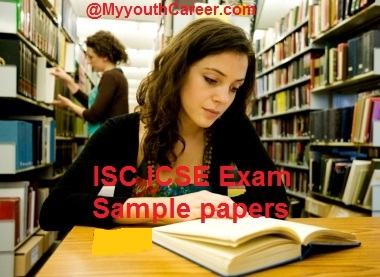 ISC Sample papers insight will be provided to all the students admiring to prepare well for ISC Exams and want to get the best ideas about the pattern of ISC Exam 2021.
ISC Board Exams 2021 Sample Papers:-
ISC/ICSE Board exams will be conducted in the next year 2021 in the month of February and March. Students can take a looks at regarding syllabus and sample papers which can surely help them out in their future exams as they can take a great idea of exam pattern i..e..,
How ICSE set exams to question paper and what are the main topics in which they concern more and focus more, this can be done by having a great look at ICSE/ISC Sample papers 2021, guess papers, model papers, and Also Some previous year question papers.
ICSE Board Exams 2021 Sample Papers:-
ICSE/ISC exams Sample papers cum guess papers are very important for every aspirant student who wish to score high and want to top in those examinations, as with these sample papers and guess papers they will get a bright idea about the kind and type question they put in Question papers which will surely give you guys an upper hand over all questions and you can save you precious time n examination as you will crack those question in a fraction of seconds.
Students can download PDF of those Sample cum guess papers below easily:-
ISC exam sample paper 2021 for 12th class students
12th Class Chemistry Sample paper Download here:- Click Here Chemistry Paper
12th Class Physics Sample paper Download here:- Click Here Physics sample Paper
12th Class Mathematics Sample papers Download here:- Click Here Sample paper for Literature English

For More Subjects Sample papers students may visit this link:- http://www.icseguess.com
ICSE exam sample paper 2021 for 10th class students 
More Subjects 10th class sample papers download from the same above link
ICSE Exam Date Sheet 2021:-
The date sheet for ICSE Exams will be revealed here for all students here. students can easily have a look at that and can download it. this stuff is exclusive and latest for all Aspirant students.
ISC Exam 2020 Date Sheet for 12th class:- Feb 2021
We hope you like these Latest ISC & ICSE Sample papers 2021, download these sample papers for free, and also share it with your friends.