The UPSC civil services IAS prelims exam is right around the corner. It is scheduled to be held on the 2nd of June this year and as usual, lakhs of IAS aspirants would take it. The prelims are the first round of exams in the UPSC CSE scheme of things and if you clear it, you would be eligible to take the IAS mains exam, which would be held in the month of September. The IAS is a dream profession for many young people in the country and an entry into the services would open up a gate of professional opportunities for them. Read on for handy tips to be followed at the fag end of your preparation cycle.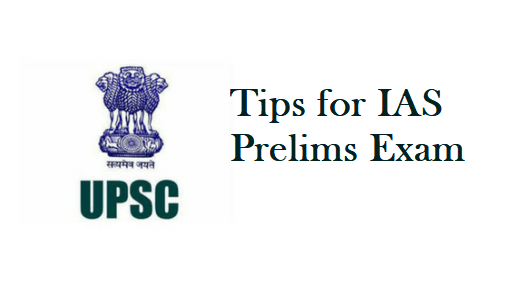 Tip #1: Don't learn anything new
The last few days before the exam is ideally a time for revision only. Learning anything new at this juncture can unsettle you. Instead of focusing on what you don't know, you should concentrate on what you have learnt and try to revise them. Have a proper plan for your revision. Chart out a schedule wherein you keep aside time for all the subjects. Give extra attention to current affairs as most of the questions would be based on this segment. You should ideally have made notes for prelims-specific topics like national parks, government schemes, recent budget, etc. separately for a quick last-minute look-up.
Tip #2: Don't ignore CSAT
The IAS prelims comprises of two papers known as the General Studies Papers I and II. The GS II paper is also commonly called the CSAT (Civil Services Aptitude Test). This is only a qualifying paper and the marks secured in this are not counted for the merit ranking. Candidates have to score at least 33% in this paper if they are to qualify for the mains, the other criteria being scoring at least the cut off marks in the GS I paper. Since the CSAT demands only a bare minimum percentage, candidates tend to overlook this paper, giving all their attention towards the GS paper I. This would be a big mistake especially if candidates are not comfortable with mathematics and the English language. Solve a few previous year CSAT papers so that you are in touch with the requirements of the paper, and face no difficulty in clearing it.
Tip #3: Take mock tests with caution
Your IAS preparation is not complete without attempting mock tests. The benefits of taking mock tests are:
You would be aware of your weak points and can embark on course correction early on.
You would develop speed in answering the paper. In the prelims paper, you have to answer 100 questions in 120 minutes, which means you get a little more than a minute to answer 1 question. Here, practice is the key to increasing your answering speed.
Taking mock tests also gives you enough practice to work around the negative marking.
Mock tests also make you familiar with the pattern of exam, which can give the much-needed confidence on the D-day.
Notwithstanding the numerous benefits of taking mock tests, you should keep certain things in mind while taking them, especially when the prelims is knocking at your door. Some of the pointers in this regard are:
Do not focus on marks at this juncture.
Take tests to get enough answering practice.
Take tests only from reputed coaching centres or good recommended online sources.
Tip #4: Prioritise
You must know how to prioritize your time in different activities during this time. Do not spend the entire day buried in books. This can tire you out. Make sure you get exercise and sleep. Do not upset your body clock as this can negatively affect your performance on the day of the exam.
Tip #5: Avoid negative thoughts
The most important thing in this last leg of the race is to be positive. Negativity can affect your concentration and ruin the exam. If you have done the hard work, results will follow. Stay positive!
For more tips and resources for your IAS exam preparation, visit the BYJU'S IAS YouTube channel.