Everybody is being surrounded by a same common question, Why Digital marketing? Just to embrace your after career options here we provide you with some information on best after career options of people now days! With the growth in internet and social media usage over the past few years, more and more businesses are implementing Digital Marketing to attract, engage and transact with their customers and investors. Digital Marketing is the most lucrative and practical method to build a company's brand and a solid consumer base.
Best After Career Option:
In case you are trying to decide which career path you would like to proceed in, you must consider Digital Marketing.
Why Digital Marketing:
You can enroll for a Digital Marketing course and get started with it. Here is a list of reasons that will help you understand how Digital Marketing can do wonders to your career:
High Demand
Digital Marketing is relevant to each and every field of business. So, no matter which company you choose to work for, there will always be high demand for a digital marketer. Nowadays, marketers track revenues generated through digital marketing. The rising influence of Digital Marketing has made product development much easier and faster. With the help of outsourcing, improved technologies and concrete marketing activities, you can conduct high-quality campaigns to build brands from scratch.
Digital marketers will always be in high demand, which will result in lucrative job offers. Your pay scale will keep increasing as you go higher up the ladder. You can begin on an associate level as a fresher and end up having a business of your own. That's how lively and self-motivated this industry is.
Digital Marketing will not only get you excellent job opportunities, but will be very helpful in becoming an entrepreneur in the future. Your experience and skills in Digital Marketing will help you to understand the needs of the customers in a better way, assess market fitness of products and gauge market demand. You will also know how to effectively market a product, to make your business take off successfully. When you can do proper marketing, scaling the business is much simpler.
Exhilarating and interesting
The scope in Digital marketing is ever growing. There is a lot involved in this field of work, which will be interesting but challenging too. You will have to handle uneven territories, new online campaigns and highly demanding job roles, but it is worth it. You will not have to worry about your job, if you work persistently in this field.
Digital Marketing is a huge industry and there are a lot of job options under it. You can select from among a multitude of roles in digital media which involve a variety of characters and skills. You can become a content writer or email marketer or social media consultant or mobile marketer or e-commerce executive or inbound marketer, graphic designer or a SEO or PPC executive or online PR expert, to name a few.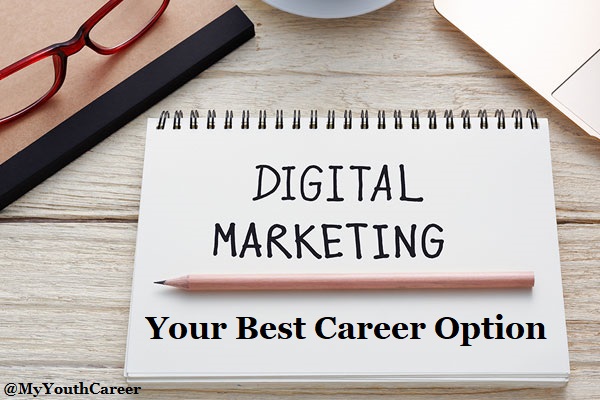 Any Educational Background
You do not need to belong specifically from a Science or Commerce background, in order to start a career in Digital Marketing. There is no requirement for an exact set of educational qualifications. Your desire is what matters here. You can take up any role in Digital Marketing, which matches your interest or hobby or passion. The best part is that you can begin your career in Digital Marketing, without starting from scratch. You can start with some training or by joining a certificate course to make it big in the business.
These are some of the chief reasons why Digital Marketing is one of the topmost promising career options in our day. Why Digital Marketing, the answer is it's an immensely dynamic, advanced and profitable part of the industry now, as it plays a very critical role.