Join Marine Engineering as a full time 4 year course from few of the most reputed institutions of India to have a career in Sea and off shores and wanna travel a long way all around on cruise Ships and big military ships with as faculty of engineers. Marine Engineering is no doubt a brilliant career with valuable payed Jobs on cruise Ships and ships.
Marine Engineering for students is one of the best engineering Options as this career got allot of options all round with Massive money packages and adventure on sea for more then 6 odd months on our own.
Join Marine Engineering:-
Marine Engineering is basically approved by Government of India's "The directorate Of Shipping". Every Cadet of Marine engineer will be enabled or eligible to become Marine Engineers to be on Merchant Navy Ships for all over the World.
Marine Engineering is a 4 year regular course in various colleges in India specially situated in coastal areas. It opens a versatile options and scopes for students doing Engineering in Marine in Merchant Navy or on private Ships or cruise Ships.
Eligibility Criteria:-
Eligibility criteria for students to join marine engineering is as follows :-
Qualification for students:-
A candidate must be 12th pass with minimum 60% in PCM (Physics,Chemistry and Mathematics).
Age Limit :- A Candidate must be below 25 years.
Also this course is Open for Both girls and Boys.
Medical ability :- A candidate must be fully Fit for sea services under all Norms. 
Eyesight for candidates should be :- 6/12 in Both Eyes, including No color blindness. They should have 6/12 in there better Eye and 6/18 in other left Eye.
A candidate must be having good communication skills and writing Skills in English as on to travel all around.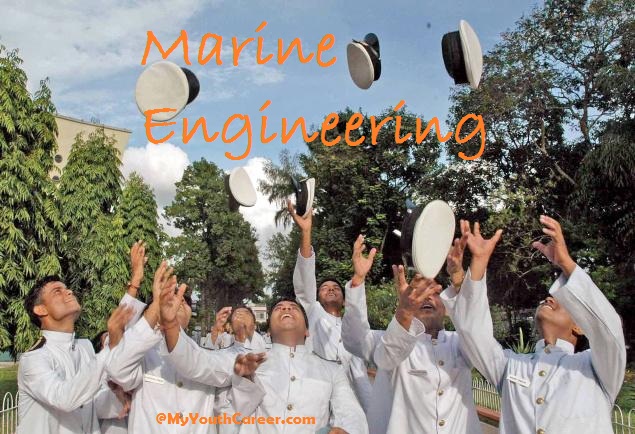 Even diploma Holder Students can apply for the Same as They needed 55% in Marine or Electrical or Mechanical Diploma from a recognize college from AICTE.
Students are always excited to Join Marine Engineering after knowing the adventure of marine engineering also what marine engineer dos and here we have some of basic Admission procedure for those aspirants needed with Eligibility criteria.