Now, you can all Crack CA exam in First time with some of the expert Tips for all the students who are preparing for the exam and going to appear in CA Exams for First Time. courses for a chartered accountant of most popular career in Today Time for many commerce students. According as It is the popular and earned Career students may also have heard a lot of misconceptions about CA Exams but actually these misconceptions are that much true for a student who is doing that. CA exams are actually not so Tough but instead it is a logical and self ability exams which would test you and your brain capabilities.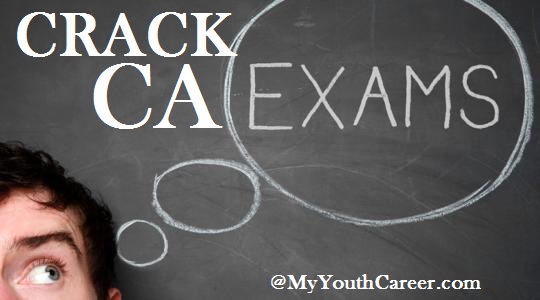 Students don't really need to study all the day or they have to analysis each steps. Just go with the basics you will surely gonna get a tremendous results in your First Attempt or First time in CA exams.  Students should look at there Aims and These things are also part & parcel of our students Life.
Crack CA Exams in First Time:-
Here we will provide Students a Bunch of Quality Tips by which you can surely clear CA exams in your first Time.
Tips are follows here :-
Reference Books are the most loyal friends of every students are willing to go for CA Exams and wanna opt Ca career. reference books are going to be very handy for students who are new Cum and giving a First try to CA Exams. Some of those Important Books are are like :-
For CA IPCC :-
Surabhi Bansal:- Auditing L. Jayaraman :- law & ethics for Comm. Girish Ahuja & Vinod Singhania :- Income TAX and others Same for CA Finals including Management accounting, Financial reporting, Direct Taxation, Indirect Taxation.
Coaching from credible Centers:- 
Coaching center may feels you like dull preparation but actually it is not. It is generally helps to covering the whole syllabus under there guidance and will clear your all doubts. Coaching can help students as coaching faculties are more  experienced for CA exams and pattern of Exams. That's why we recommend Coaching for Students during preparation of Ca exams. But be very specific and particular while choosing to the right Coaching center and also Try to Give your best to that Center as they can only help you if you gave full 100% efforts for clearing CA exams and Try to do all the Home text problems given to you this going to be very handy for you to clear all your doubts and understanding the concept well.
Before start preparing  just go through the syllabus once and try to right it all the chapters in a separate paper including Main Topics.
try to Figure out in which subject you can feel comfortable to go with wind and to those subjects in which you need to work a bit hard.
Just go with basics If you have a reasonable time in hand you can followup and try to cover those topics in which you are feeling a bit worried or low in confidence then go for those Topics or subjects in which you have confidence.
build a schedule for your self and try to Implement as it is . you should obey to that schedule very seriously and try to do even more then that of you want to crack CA exams in your First Time Attempt.
Every students can now Implement these important tips which will surely gonna help you getting success in CA exams  in first attempt for your bright career.