SSB Interview Tips & Tricks for every aspiring candidate who wants to Crack SSB Interview and want to taste Success in SSB personality test which lasts for 5 Days. SSB is basically is Service Selection board which responsible for  testing of candidates for 5  vigorous days, testing includes each ability, skill, mental strength and Thinking. These Tips are complete classified for Success in SSB interviews with latest Tips & Tricks and get selected on Merit to serve for nation.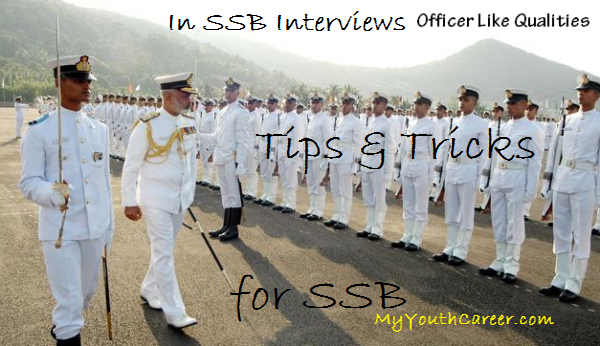 After Written Exam conduced by UPSC there will be a personality test or SSB Interview where only few of students will be selected out of Thousands of students who have cleared the Objective exams. A Candidates must be fulfilled with these all Qualities after he has cleared the Written exam such as NDA and CDS Exams.
SSB Interview Clearing Tips:-
Here we present some typical SSB Tips and tricks for Candidates who are going for SSB interviews, dreaming for clearing it and get recruited in Indian Defense Armed forces like Indian Army, Air-Force and navy through it according to the merit and they deserve.
Tips and tricks for Success in SSB:-
Practice is the key:

– practice is the of key for get success try to prepare as Much as you can and try to improve your vocal and communication Skills as much as you can and the most important help improve your English speaking flawless and fearless to the external factors.
Confidence Matters :-

 In Military or Defense Services the only thing which really make the Difference as, They are only looking for a Confident personality and a person who is capable of making Tough Decisions in every situation.
Positive Thinking:- Candidates who are going for SSB interviews must have such a Positive attitude and thinking so that you can think differently from other in a better way and can get positives out of each and every thing.

Go for Coaching:– When you are feeling blank minded and have nothing to get prepared, we Strongly recommend coaching classes for those students who don't want to waste it just by depending on your destiny. All students going for coaching must be aware of the reputations of institutes, you all must not carried away by any such terms.
Improving GK for GD :- Candidates must improve there General Knowledge in the sense to make a great Impact in your GD( Group Discussion) Round. GK is the most important thing to work on for your GD rounds and even for personal Interviews.
Work on your Fitness:- Fitness is the only thing which is most probable be very much handy while you are going for SSB. improve your fitness so that you can make a good impact on the interviewer officers. While During the Medical testing round you have to show your physical strength and stamina.
Avoid Nervousness :-

Students Nervousness is the biggest enemy of you during SSB if you possess this will surely not going to work in it, every one have flying butterflies in their Stomach while going to SSBs but you have to make sure that it won't reflect on your Face and your gestures. keep Calm and confident during SSB interviews for tasting the Success in SSB interviews.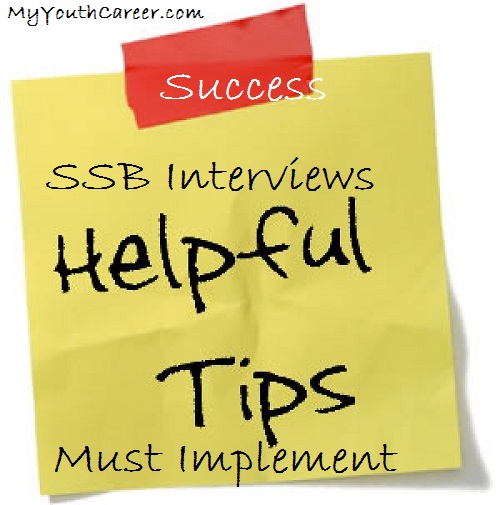 Note:-
We Hope you all like these Tips and Tricks for SSB interviews and we make sure it will keep you clear SSB so that you can be able to service for Indian Armed Forces like ARMY, Air-Force and Navy as a Officer. Also we will appreciate if you can share your views below about your SSB interviews 'how it works for you, and how was your experience