IIT Institutes will soon be allowing Non Resident students into its campuses, According to a report recently Non-Resident students can apply for IITs. Indian Institute of Technology is a dream for any student who wants to take up engineering. IITs  to admit non-resident students as well to increase the number of seats in various graduate and post graduate courses.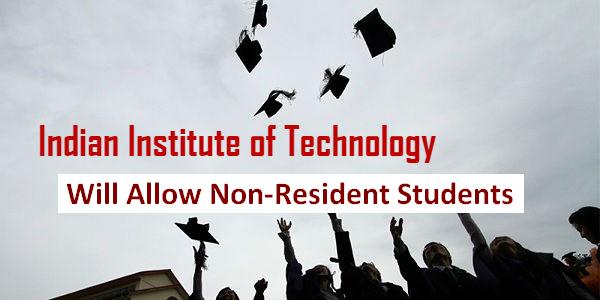 IIT is the best platform towards success especially for engineering students. Million students aspire to enter IITs at the B.Tech level every year via a two-tier JEE entrance exam. Along with Indian students. The IITs are India's most popular and top ranked institutions meant for making successful engineers. Whether it is for getting placement in best companies or getting universities for further studies,
Non-Resident Students Can Apply for IIT:
At present IITs have 72,000 students in their undergraduate, postgraduate or doctorate courses which are residential. IITs have this aim to make their total intake to one lakh by the year 2020 by increasing 10000 students per year. Ideally there would be an increase of 4,000 seats in undergraduate courses and 6,000 seats in postgraduate and Ph.D seats. To achieve this IITs have to alter the condition that makes the students stay compulsorily in campus. Students who would not want to stay in hostels can also take admissions in IITs.
"In-principle" approval has been given to the proposal for admitting non-resident students in a meeting of the IIT Council headed by HRD Minister Prakash Javadekar . The authorities of different IITs will now make necessary arrangements to fix the number of additional students they can accommodate. The foremost reason behind the decision of admitting a nonresident student into IIT is to make IIT enter in the list of top international educational institutions. Despite of scoring well on other parameters, IITs lose out in a big way when it comes to the key parameter of international students. This will give both IITs and its student's global exposure and address some of the major issues hampering the global ranking of IITs.
IIT Institutes for NRI students: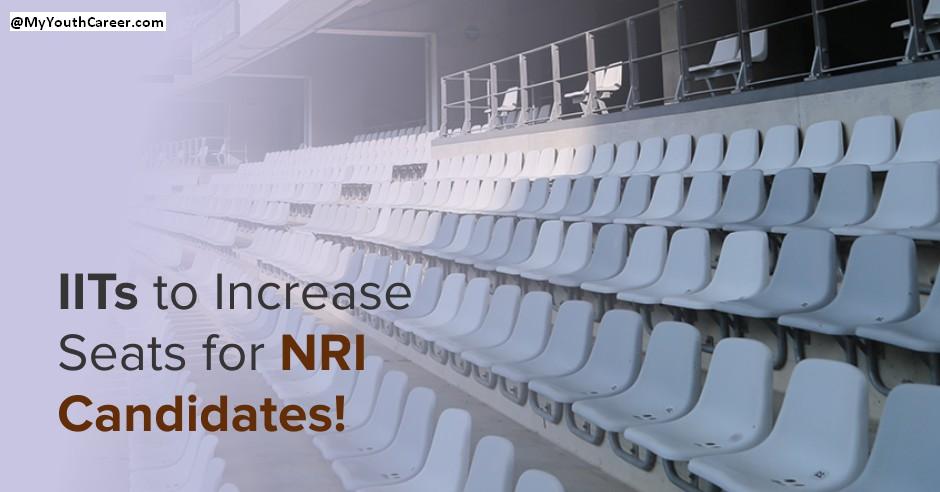 The Joint Admission Board (JAB) of IITs decided that students from various countries like Afghanistan, Bangladesh, Sri Lanka, Nepal, Bhutan, Maldives, Singapore, the UAE and Ethiopia will be allowed to take admission in IIT by directly appearing for the JEE (advanced) test and skipping the JEE (main) that Indian students have to take. This has been done to showcase India's soft power towards foreign students who would like to study in IITs. Exam centres will be set up in these countries. However, in any case admission of nonresident students will not have any effect on the seats for Indian students. Ethiopia is the only country selected from Africa as IIT is quite common there and a large number of Ethiopian students are pursuing their post graduate courses through IIT.
IIT-Guwahati had eight M-Tech students from Ethiopia. The UAE was selected as people of various nationalities reside in Dubai and Abu Dhabi. The cost of admission will be recovered from the foreign student and the government will not bear any expense on account of foreign students. They will be given the same facilities as Indian students. Pakistan has been left out due to home ministry's objection.
HRD Minister Prakash Javadekar announced that the IIT Council has also approved a proposal to introduce the Prime Minister's Research Fellowships to encourage IITians passing out of B.Tech to enroll in Ph.D courses straightaway. Another important decision taken by the council is to introduce an induction course to help new students adjust as they join these institutes after a rigorous competitive examination. A workshop will soon be organized for the new education policy. The IIT Council has also given its approval to a "pilot" run of an aptitude test which will not have any bearing on the admissions.
Latest news which is just entered in our education sphere is Non-Resident Students Can Apply for IIT institutes as well, this is going to be a huge news for many student residential outside India.