AIT Pune 2015 Application Forms and other Important Details like Eligibility criteria, Admission detail,Total number of Seats and Online & offline Registration. AIT is basically Army Institute of Technology which provide Students belonging to Army background, admission in Engineering graduation courses such as B.Tech and B.E. All the Admissions will be done on the basis of  JEE Mains marks of students. AIT Admission are now on and applicaton forms are now available on AIT Pune Home site, Detailed info is given below.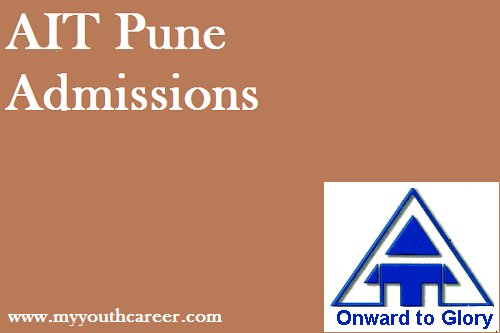 AIT Pune is basically a Army persons institutes who provide all the Army background students a great opportunity to study undergraduate courses from a well known Army institute of Technology situated in Pune, Maharashtra.
AIT Pune 2015 Application forms:-
For filling AIT pune 2015 Application forms, candidates or students must have filled JEE Mains application form as we have already told you AIT will use JEE marks for there Admissions criteria in 2015. Students must have to fill up JEE mains 2015 Roll no on AIT application form which is mandatory, else your application or registration will be considered as Void and cancelled certainly. AIT applications can be implemented in both Offline and Online such as:-
Online Application form details:-
Online application for AIT (Army Institute of Technology) can be done through official website of  AIT which is www.aitpune.com. Students have to provide an affiliate to AIT institute as an Application fees of Rs 750 which can be paid via various modes such a Credit cards/Debit Cards or Net Banking. further Bank may charge Rs 37 as a additional processing Charges.
Offline Application form details:-
Students can fill Offline application forms of AIT in two different Modes such as:-
Students can Buy it from AIT headquarters which is situated at Pune  by paying application fee of Rs 750 by demand Draft. Students have a to send Demand Draft in favour of

"Director, AIT"

which will be payable at

Pune.

Students can also Demand Offline form by post with some additional charges and have to pay a grand total of Rs 820 with same Demand Draft Details.

Dates and Details of AIT Pune 2015:-
Admissions for AIT Pune Institute for 2015 batch will be started :- April/May 2015

Last Date of AIT Pune application form:- 30th April, 2015
AIT Pune 2015 Total seats :-
Total Number of Seats allocated in AIT Pune are:- 300
seats are distributed as :-
Electronics and communication engineering seats (ECE) :-

120
Mechanical Engineering (ME)Seats:-

60
Computer Science Engineering (CSE) Seats:-

60
Information technology (IT)Seats:-

60
Note:-
AIT Pune 2015 Application forms will be live in march when IIT council will distributes there Admit Cards to all students who have applied to JEE Mains exam 2015.