NDA & NA answer key for students so that they can easily analysis there written test given on 20th April 2014 and find a pin down there expected marks in NDA . NDA 1 cutoff will also provide students there expected chances for selection in SSB as per there marks which they have noted with the help of answer keys  provided by UPSC. Students can easily download answer keys from below.
NDA question paper is divided into 2 sections mainly which are Mathematics and General ability. This Answer key are totally provided by UPSC (Union Public Service Commission).
NDA & NA answer key:-
NDA 1 answer key can provide students a brighter way to analyse there exam paper and can get right answers for each questions which they have just given in there answer sheets to UPSC. NDA answerkeys will surely gave to a precise marks which you will be obtaining in your Final Result.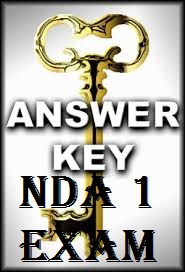 NDA 1 mathematics & General Eligibility answer key can be download easily also these answer keys are as per UPSC which they have provide it on there home site. These Answer keys are in PDF form.
NDA 1 Maths Answer key :- NDA 1 Answer key 2014
NDA 1 GB Answer key :- NDA 1 2014 Answer key download here
Students can easily navigate them self to the Home Site of  UPSC for downloading Answer keys online in PDF Forms through www.upsc.gov.in .
Answer key will be provided for all the Sets of examination which going to be very handy for students to expect a precise marks in exams.
NDA 1 & NA 1 Cutoff:-
NDA 1 cutoff is expected to be between 300 to 350 Also to be in Merit list students have to get marks over 400 to 500.
Cutoffs can bring smiles on many faces as This time due to Increase in toughness of Written exams UPSc can reduce cutoff a Bit and we are now expecting allot of students to be selected in NDA 1. Hopefully our all wishes are with students who have given NDA 1 exam.
We are also expecting that result of NDA 1 will be declared on June 2014.